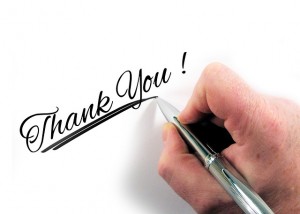 Is a simple Thank You enough?
We have all gone crazy over the next best thing, analytics, predictive tracking, integrations, wonder widgets, and behavior modification.    Does it really matter, and can we actually make changes in customer behavior through these tools?   Could it be as simple as saying "Thank You"?    We know from all of our surveys that a customer is likely to change brands or services  because of service or lack thereof.  If a customer has a bad experience they are three times more likely to switch brands.    Understanding your customers'  behavior through analytics is a basic necessity.   Tracking trends in spend, types of shopping, and merchant give us a view into the customers' behavior; however without solid customer service none of it really matters.   Customers are delicate and fragile.   Our most loyal customers are often our most fragile.  They have invested long-term in us, and feel they have the given right to assume certain things like good service, special perks,  and quick responses.  If they don't feel they have received fair treatment they are likely gone.
Thank You Goes a Long Way
So the "Thank You" goes a long way, especially if used in unpredicted or nonpublished ways.   We have talked before about whether 1% cash back or 1% rewards is enough to matter?   Customers have come to expect and not necessarily appreciate the rewards they are given.   The "Thank You" reward or email at an unexpected time is more likely to be received and appreciated.  We created the unappreciative customer by giving meaningless rewards for nothing.   Loyalty programs were never intended to reward everyone.   The very first programs, even back to Green Stamps, were created to reward customers for being frequent and loyal shoppers.   The airlines took the loyalty programs to the next step by introducing the Three Tiered approach.
With all our analytics and research, most of us can't identify the top 20% of  our customers.   But in a lot of cases, the 20% of our customers  makes up 60-90% of our spend.   Are we missing the obvious?    Rewarding for things which benefit our business, providing good customer service, rewarding top customers, and saying "Thank You" are all the basis for a great and different loyalty program.
Thank You Gets Results
When you start to revamp or strategize your loyalty program, you should always consider:
1.  Set your goal for the program
i)    Customer Loyalty
ii)   Customer Retention
iii)  Increasing Revenue
iv)  Improving customer service
v)   Customer Recognition
We hear a lot about a fast food chicken chain in Texas.   They provide exceptional service and they get recognized for it.  We also hear a lot about a coffee shop whose customer service has become mandatory for employees and so over the top that it now drives customers away instead of engaging them.  The line is thin and must be monitoring consistently.  But if done correctly we can expect to gain:
Recurring Business
Respect for your brand and products
Referrals
For more information contact Kyle Tidwell.   (469) 706-3318 or ktidwell@dbgloyalty.com

info@dbgloyalty.com
www.dbgloyalty.com
DBG Loyalty is a leading innovator in loyalty and rewards marketing. DBG was founded in 2002 because the industry was looking for a trusted technology leader who could develop and establish consumer loyalty programs. DBG has customer relationships which span from the time of inception.

Linda Butcher is the Chief Business Development Officer at DBG Loyalty, where she heads strategy and sales. Linda has extensive experience in consumer engagement through social media, marketing,
and loyalty solutions.

Contact:
lbutcher@dbgloyalty.com
469-706-3333

Latest posts by Linda Butcher (see all)